Volunteering Comes with Benefits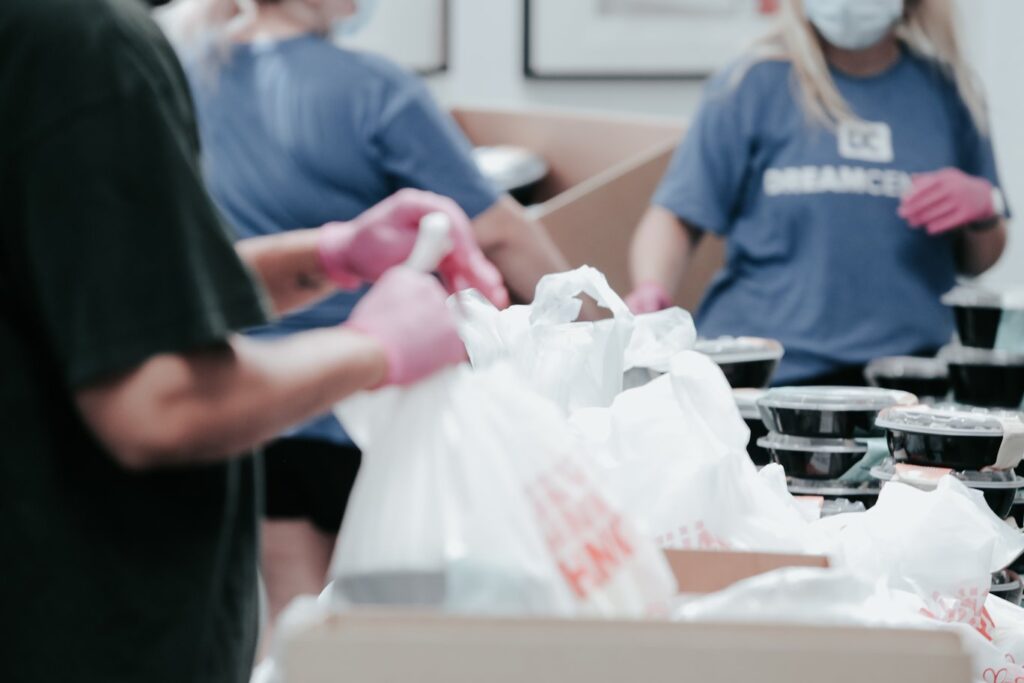 The pandemic increased the number of people seeking help from nonprofits, but decreased the number of volunteers available (or willing) to help out. Now that most mask mandates have been lifted and we've adapted to the "new normal," it's time to consider volunteering to support your community, the causes and organizations you believe in—and yourself.
That's right. Volunteering has the potential to bring a lot of benefits to volunteers—in addition to the organizations and people they serve. And not all volunteering is through nonprofits. More than 124 million people—or nearly half of the U.S. population age 16 and older—informally helped their neighbors at the height of the pandemic.1
How volunteering helps volunteers
As the pandemic declines, some people may still be reluctant to start volunteering. If you're one of them, you may want to consider the many potential benefits volunteering provides that may help you move forward in a post-pandemic world. Some of these benefits include:
Connecting to your community and helping to make it a better place
Making new friends and contacts
Combatting depression, stress, anger, and anxiety
Increasing self-confidence
Providing a sense of purpose
Improving your physical health
Advancing your career
Learning valuable job skills
Gaining career experience
Volunteering as a pathway to employment
The need for volunteers is great
While more people are returning to volunteering, there's still a great need. A newly released study by the Do Good Institute2 at the University of Maryland's School of Public Policy revealed the following:
64.4% of nonprofits reported an increase in demand for their organizations' services, but nearly 30% are operating with less funding and paid staff than they had before the pandemic
46.8% of the nonprofit leaders surveyed said recruiting sufficient volunteers is a big problem
72.2% of the nonprofit leaders surveyed said they feel volunteers improve the quality of services or programs provided to a great extent, but only 25.2% of unders agreed.
"The gap in funding and staffing makes volunteers even more important for many mission-driven organizations," said Nathan Dietz, Senior Researcher at the Do Good Institute. "Nonprofits will likely face staff burnout or service delivery issues if this continues. Many of these organizations offer critical services and support to some of the most vulnerable people in our society, so this is something we should all be concerned about."3
The value of volunteering
In April 2022, the Do Good Institute and the Independent Sector announced that the latest value of an hour of volunteer time is estimated to be worth $29.95, which is a 4.9% increase from 2021.4 Despite the value of your time, though, you won't get a tax break for that. If you keep good records, you can deduct certain out-of-pocket expenses if they are not reimbursed and are spent because of your volunteer services for a qualified 501 (c)(3) nonprofit. Examples include the purchase and cleaning of required uniforms, and volunteer-related travel expenses.
Where to find volunteer opportunities
There is such a great need for volunteers that the opportunities may seem countless. It may be difficult to decide what you want to do—and where. Fortunately, there are websites with databases designed to help match volunteers with organizations nearby that need their help. These include:
AmeriCorps
VolunteerMatch
Points of Light
Idealist
Volunteer
Peace Corps
American Red Cross
Find time to say thank you
Whether you plan to take on new volunteer opportunities or not, the need for volunteers is a good reason to, at least, say thank you to those who are volunteering their time and experience to help make our communities—and our country—better.
1 United States Census Bureau: "Volunteering in America: New U.S. Census Bureau, AmeriCorps Research."
2 Do Good Institute at the University of Maryland's School of Public Policy: "The State of Volunteer Engagement: Insights
from Nonprofit Leaders and Funders"
3 Do Good Institute: "New Research Reveals Volunteerism as Critical Driver of Nonprofits' Success, Highlighting Opportunity
for Funders to Build Nonprofit Capacity in the Post-Pandemic World"
4 Independent Sector: Value of Volunteer Time
IMPORTANT DISCLOSURES
This material is for general information only and is not intended to provide specific advice or recommendations for any individual. There is no assurance that the views or strategies discussed are suitable for all investors or will yield positive outcomes. Investing involves risks including possible loss of principal.
This material was prepared by LPL Financial.