Aspire Planning Group merges with Vertex Partners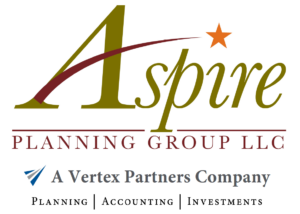 DOWNERS GROVE, IL – JANUARY 13, 2022– Vertex Partners is excited to announce a strategic merger with Aspire Planning Group of Grayslake, IL. The Managing Partners of Vertex Partners, Greg Benner, Mike Bellis and Brad Schaffnit have had an ongoing relationship with Julie Hupp, President of Aspire Planning Group for over seven years.  "By joining Vertex, I will have others to share responsibilities and to collaborate with. They have dedicated investment and tax planning teams, as well as technology support which will be invaluable resources moving forward." said Julie Hupp.
"We're excited to bring Julie's group to the Vertex Partners team. The relationships that her firm has developed with their clients, accompanied with the resources that Vertex Partners has to offer really benefits everyone. Our expanded team of financial planners, CPA's and accounting professionals, will continue to provide the Aspire clients a comprehensive perspective to their financial planning." said Mike Bellis.
Aspire will operate from their current Grayslake office with the same contact information as before the merger. The high level of service and engagement that clients have received will not change, but the Aspire team looks forward to leveraging Vertex's additional resources to further support their client's needs.
Both Vertex Partners and Aspire have similar investment philosophies, making for a seamless transition. "Merging with Aspire was a natural progression for both parties, we have additional resources and investment models available to provide more options for the Aspire clients." commented Greg Benner.
"We look forward to continue our relationship with Julie and the Aspire clients for years to come, we couldn't be more excited to welcome her team to the Vertex family." said Brad Schaffnit.